Kurd-Akad funding programme for the publication of a dissertation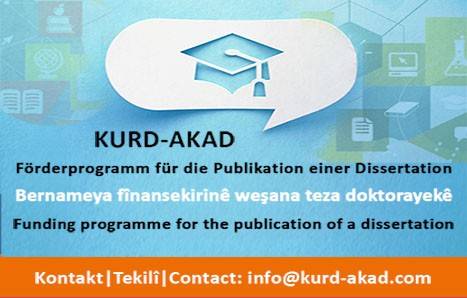 Our network is introducing a funding programme to provide financial support for the publication of dissertations. We will support the publication of one dissertation twice a year with 250 Euros.
Funding will be provided for outstanding publications of dissertations that are related to Kurdish or correlated topics and have been completed in German or English at a university in Germany.
The application deadline is 15 March and 15 September of the current year.
The following application documents must be submitted by e-mail for a publication grant:
– Letter of application and motivation
– Short summary of the dissertation (1 page)
– Copy of the doctoral certificate
– Curriculum vitae with photo
The academic advisory board of our educational institute will provide significant support in the decision-making process.
We are looking forward to receiving your applications.
Executive Board